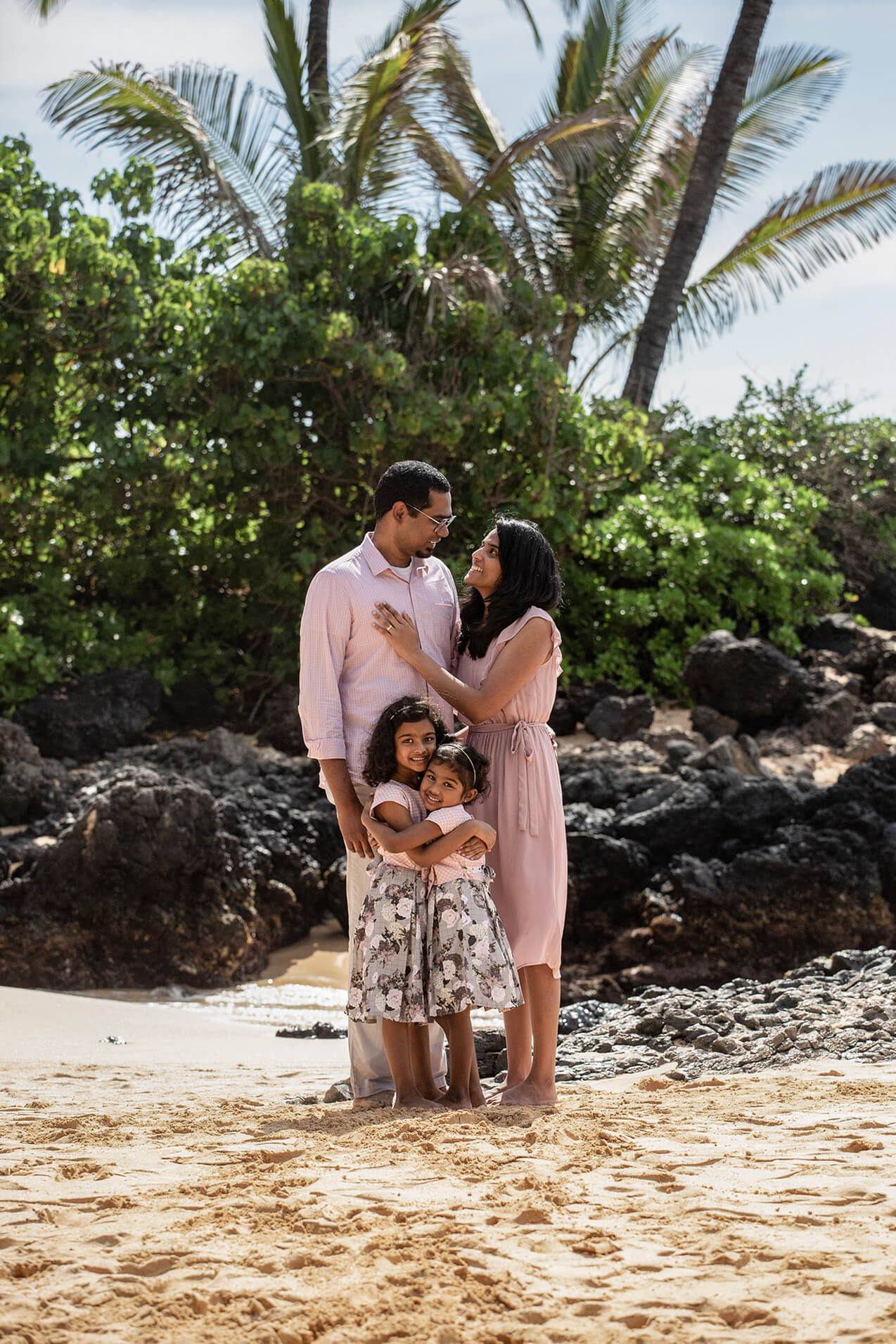 Although most families coming to Maui may find a slew of photographers to choose from, the most important part about choosing a family photographer is making sure that you like their work. The second thing to look for is making sure their pricing suits your budget. You obviously want to get what you can afford while at the same time looking for quality. The hardest part to determine before actually meeting the person is to see how they make you feel when they shoot. You won't be able to meet them until you meet them, and most families visiting Maui will only meet their photographer on the day of the shoot. Start by reading some testimonials, reviews and see how people feel about the way they made them feel. One of the most difficult challenges for a photographer is shooting families with children. The younger, the more difficult it is to have the children focus. Especially when there are lots of kids present. Always make sure to look for reviews or testimonials. Where the parents are saying that a photographer was great with kids. There are many other things that you can look for when hiring a photographer in Maui, but more than anything these are top three in my list.
What should you wear on the day of your shoot?
Most people like to wear Hawaiian style attire, from the flowery shirts, to the flowers and the hair. This is always a go-to because it's the easiest way to show people others that you are on a beach in Hawaii. You can easily find these Hawaiian style clothes for your photography session at stores like Walmart, Target, Ross and even some ma and paw shops.
If you're having a hard time matching clothes with the entire family, dressing in white, or natural colors like tans always look great on camera. When I shoot families, I make sure to bring out the blues in the waters, the greens in the backgrounds so try not to wear those types of colors.
Light, natural blues and light natural greens are okay, I just would stay away from bright colors like reds, bright blues, bright yellows. At the day, it's your family shoot and you can dress however you want! If you have any questions about wardrobe, feel free to contact me. Most people do anyway.
Where are the best places to shoot in Maui?
As easy as it is to answer this question, it's also pretty difficult because Maui is a gorgeous and magical place where you can shoot just about anywhere. The only thing you really have to worry about sometimes is the weather. But a good photographer in Maui can edit photos on a bad weather day to make them look good!
If you are looking for the typical beach shot, there are plenty of beautiful beaches to choose from. If you are staying in Lahaina, Westside area, Kapalua Bay, is a great beach to shoot family photos.
If you are staying in South Maui, there are tons of beautiful beaches in Kihei and Wailea. If you would like to see some examples, just contact me and I will show you some pass shoots that I've done for families and you can choose which one you like.
If you want to shoot underwater, the best beach for this in my opinion is Black Rock Beach in Lahaina. Only because turtles are frequently in that area and it's easier to capture those awesome moments. The rock jump also has three different levels to jump from so it's easy for kids and adults that don't want to jump from the highest point which is about 30 ft high. The water at the bottom of the jump is extremely blue and clear. Perfect for underwater photos and videos.
Another great thing about family photos in Maui is that you can also shoot in the jungle areas of the island. There are some gorgeous and luscious rainforest settings to take family photos in. There are places where you can take photos in front of some large yellow bamboo shoots that aren't too far away from town.
There are also gorgeous waterfalls that you can take beautiful family photos in front of, and also jump off the waterfalls that aren't very scary at all. Twin falls is a beautiful privately owned park with glorious waterfalls in just a short hike. It's only about a 30 to 45 minute drive from the airport and a great place for family photography in Maui.
If you are going on an underwater snorkeling adventure, there is a really awesome boat called Maui Snorkeling that goes to molikini and you can also get some beautiful underwater snorkeling family photos there.
Another great place to take photos is on the island of Lanai which is only a $50 round trip per person. 2-year-olds and under are free.
Once you get to Lanai, there is beautiful gigantic rock structure that surrounds the beach and it's only about a 15 to 20 minute walk from the ferry. You can also make it a nice picnic and beach day, you are allowed to take a wagon and cooler.
What are the best times to shoot?
The best time to take family photos in Maui are during sunset. The hours slightly fluctuate from season to season, but are usually between the hours of 6:00 to 7:00 p.m.
I have also taken some beautiful photos during sunrise which is in between the hours of 6:00 a.m. to 7:00 a.m.
The sun is usually right above your head between the hours of 12:00 p.m. and 1:00 p.m. this is when the light is the harshest on your skin, creating unwanted shadows in photographs.
You can still take beautiful photos in the sun, don't get me wrong, but for family photos, you do want a little bit of that softer light that is provided during sunsets and sunrises.
How fast do you get your photos?
It really depends on what package you get, but I'm very fast at turning photos around. I usually edit between 1 to 3 business days, and then I send a link for you to receive your photos. Videos can take a little bit longer, usually between 1 to 2 weeks to edit. Depending on how busy I am, sometimes I can get them done pretty quickly.
Maui is busy all year long so there is never really any downtime. Summers are very busy, winters are very busy, and there's just always lots of families here looking for a photographers.
Shooting in Maui is a lot of fun. No matter where you shoot, you're going to have an amazing experience when shooting with me. I am great with kids as I have three of my own, so I'm able to be patient when kids get fussy, and I'm able to make them laugh and smile. I also know many secret spots that most photographers don't know about.
If you're looking to have beautiful family photos on Maui and have a great time, don't hesitate to get in touch with me!